| | |
| --- | --- |
| | Washington Will Forms | Last Will and Testament | Living Will |
Washington will forms are legal forms that are designed to assist anyone who is of legal age and sound mind, to prepare for end of life situations with both their possessions as well as having the ability to make their own medical decisions in preparation for end of life scenarios. For example, a "living will" will serve the purpose of providing medical providers and health care agent, the information needed, in written record so that all parties will have a document to refer to while making end of life decisions on behalf of the Principal. Should the Principal need to select a health care agent, they may do so with this form.
The "last will and testament" is a document that will allow a user to provide a document that will outline how they would like their estate or their possessions to be distributed to their beneficiaries. The Testator may also assign an executor, to divide the estate once the testator is deceased. These documents may be changed by revocation and creating a new document or, they may simply revoke the document as they wish.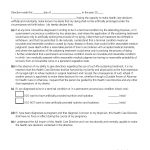 The Washington advance health care directive(living will) is a legal document that is prepared by a person (Principal) who would like to simply state their end of life decisions in writing, while they are of sound mind, so there are no questions with regard to the medical options they would select when they are no longer able […]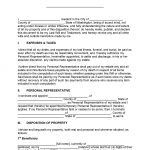 The Washington last will and testament is a legal document that is provided for a person (Testator) so that they may specify exactly how they would like to have their estate divided among their beneficiaries. The estate could consist of all or any of the following: personal property, real property and or all financial accounts, (banking, retirement […]