| | |
| --- | --- |
| | Vermont Will Forms | Last Will and Testament | Living Will |
Vermont will forms are documents that, depending upon the chosen document will provide different purposes. A "last will and testament" document will guide the user (testator) through the process of preparing a disposition of their estate for division by their executor after their death.
A "living will," is a document that provides the ability for an individual to make and record in writing, their end of life decisions, while they are of sound mind. They will have the opportunity to consider their personal wishes pertaining their end of life medical decisions. This will ensure that their family and medical team are aware of exactly what the Principal desires. These forms must be witnessed and/or notarized.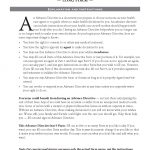 The Vermont advance health care directive(living will) is  is an "Advance Directive" document that would allow an individual,(Principal), while of sound mind, may plan in advance, how they wish to direct their physicians and health care representative(s) with information pertaining to their end of life choices. In the event the Principal hasn't appointed a health care agent, this […]
Vermont Last Will and Testament Form is set to be the paperwork you will need to fill out and issue once you have determined what should happen to your tangible and intangible property upon your death. Since this is a standardized document, containing all the wording required for its purpose under Vermont Statutes (Title 14: […]