| | |
| --- | --- |
| | New York Will Forms | Last Will and Testament | Living Will |
New York will forms are designed to serve persons in two ways, who would like to prepare their estate and medical choices in advance. The "last will and testament" will assist in guiding the user through set up of a standard will. This document will also offer provision for appointment of an executor to ensure that the estate is properly distributed to the Testator's beneficiaries after the Testator's death.
The "living will," is a document that will assist the user, also identified as the "Principal," to create a record, in writing, that will clearly specify what medical treatment they wish to acquire when they are no longer able to make their own medical decisions. The document will provide the medical providers and any health care agent the wishes of the Principal. The documents must be completed by the Principal, while they are sound mind. Either document may be revoked by the individuals at any time.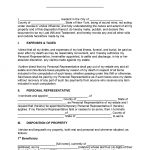 The New York last will and testament is a legal document that individuals (testators) use to provide a written record, stating how they would like to have their estate distributed once the testator is deceased. The estate may include financial accounts, real property and/or personal property. This form will also accommodate appointment of an executor. This document […]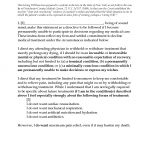 The New York living will is a legal document that will allow to an individual (principal) to address their medical choices, in the event the principal is no longer able to make their medical decisions. This document will provide specific instructions for their medical providers and health care agent, describing their final wishes, should they reach an end […]