| | |
| --- | --- |
| | New Mexico Will Forms | Last Will and Testament | Living Will |
New Mexico will forms are documents that are provided to allow persons to establish their wishes for their end of life situations. The "last will and testament document will assist the "Testator" in setting fourth a document stating how they would like their estate to be distributed; while the "living will" allows one (Principal) to create a document expressing their wishes for medical care when they are no longer able to communicate their wishes directly with physicians, family or a health care proxy.
These documents must be completed while the person is of sound mind. Should the person feel it would be necessary to make changes or revoke either document, they may do so at their discretion.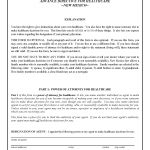 The New Mexico advance health care directive(living will) form is a legal document that is made available to a person (principal) who would like (while of sound mind) to prepare in advance for the quality of medical care they would wish receive, when/if reaching end of life circumstances. The form will provide a form of reference to […]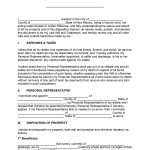 The New Mexico last will and testament is a legal document that any individual of legal age may use to create a written record, while they are of sound mind, stating their wishes regarding the distribution of their personal their estate. The estate may include financial accounts, real property and/or personal property. This form will also accommodate the […]