| | |
| --- | --- |
| | Rhode Island Will Forms | Last Will and Testament | Living Will |
Rhode Island will forms are legal documents that assist in creating documents addressing end of life or after death arrangements. The forms must be completed by the individual, while they are of sound mind. A "living will," is a document that will guide the person, also known as a "Principal" through the process of placing into writing, their wishes with regard to their end of life medical care. The form will guide the user in the delegation of a health care agent as well. Once the document is completed, it must be witnessed or notarized to be effective.
A "last will and testament" is a form that, once downloaded, would allow a person (Testator) to prepare their estate for distribution after their death. This document will also allow a testator to also appoint a trusted executor to distribute the estate. The Testator will have the ability provide beneficiaries information. The document must be completed while the Testator is of sound mind. The document may be changed or revoked as the Testator wishes.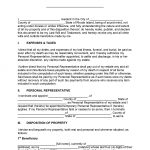 The Rhode Island last will and testament is a document that would be utilized by an individual (Testator) who would like to make advanced preparations, while they are of sound mind, as to how they would choose to divide their estate among their chosen beneficiaries, after the Testator's death. Should the Testator choose, they may appoint an […]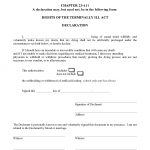 The Rhode Island living will is a legal document (also known as an advance directive) that is used for the purpose of establishing the wishes of the Principal with regard to their selection of end of life medical care. The Rhode Island "living will" form, although brief, specifies the desire to withhold treatment in the event that […]