| | |
| --- | --- |
| | Oregon Will Forms | Last Will and Testament | Living Will |
Oregon will forms are legal documents that help a person to create documents, that will allow them to prepare in advance, their choices regarding their medical and estate decisions.
A "living will," is a document that will guide the "Principal" or "Declarant," through the process of recording their wishes with regard to their end of life medical care. The document will also help the Principal establish a health care agent (optional). The Principal must complete the form while they are of sound mind and the document must be witnessed or acknowledged by a notary public
A "last will and testament" is a document that would provide the ability for a Testator to prepare their estate for distribution in the event of their death. This document provides the ability to name  an executor they would trust to distribute the estate. As well, the Testator will be able to provide beneficiaries information. The document must be completed by or in the presence of the Testator while they are of sound mind.
Oregon Advance Health Care Directive (Living Will) Form acts as direct communication between you, your Health Care Representative(s), and your Health Care Provider(s).  When filling out this document, you will have the ability to solidify your feelings regarding basic scenarios involving medical treatments and interventions during traumatic medical emergencies or an end-of-life event. Additionally, you […]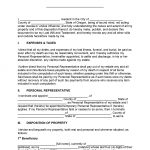 The Oregon last will and testament is a legal document (standard will) that is provided so that anyone of age (testator) may provide a complete written outline as a record of their wishes pertaining to their estate. The estate may include personal property, financial accounts, and real property. The document will provide the ability to delegate an […]