| | |
| --- | --- |
| | Ohio Will Forms | Last Will and Testament | Living Will |
Ohio will forms are legal documents that will help assist one in the creation of end of life documents, while they are of sound mind, that will put their affairs in order, so that there will be no questions regarding their wishes before and after death.
A "living will," is a document that will guide the person, also known as a "Principal" or "Declarant," through the process of setting fourth their wishes with regard to their end of life medical care. The form will assist in establishing a health care agent if the Principal would like one. The Principal must complete the form while they are of sound mind
A "last will and testament" is a document that would allow a person (Testator) to prepare their estate for distribution after their death. This document will allow a testator to also name an executor to distribute the estate. As well, they will be able to provide beneficiaries information. The document must be completed while the Testator is of sound mind. The document may be changed or revoked, also as long as the Testator is of sound mind to revoke or make changes.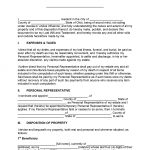 The Ohio last will and testament is a legal document (a standard will) that may be completed by any person (Testator) who would like to prepare their estate for distribution after the testator's death. The document will guide the testator through the process of naming an executor as well, recording the information needed of the beneficiaries. Only […]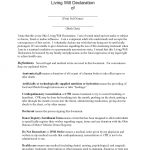 The Ohio living will is a legal document that provides a written record of one's (Principal) wishes with regard to medical choices when the Principal is no longer able to make their own medical decisions. Once completed, the medical providers as well as the health care agent (if one has been appointed) may refer to this document […]